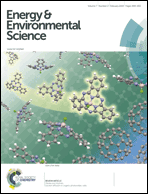 The latest issue of EES is now online. You can read the full issue here.
The outside front cover features the paper Exciton diffusion in organic photovoltaic cells by S. Matthew Menke and Russell J. Holmes.
Lead candidates for high-performance organic photovoltaics from high-throughput quantum chemistry – the Harvard Clean Energy Project is the paper highlighted on the inside front cover by Johannes Hachmann, Roberto Olivares-Amaya, Adrian Jinich, Anthony L. Appleton, Martin A. Blood-Forsythe, László R. Seress, Carolina Román-Salgado, Kai Trepte, Sule Atahan-Evrenk, Süleyman Er, Supriya Shrestha, Rajib Mondal, Anatoliy Sokolov, Zhenan Bao and Alán Aspuru-Guzik.
Issue 2 contains a number of excellent Analysis, Review and Perspective articles:
Energy demand and emissions of the non-energy sector
Vassilis Daioglou, Andre P. C. Faaij, Deger Saygin, Martin K. Patel, Birka Wicke and Detlef P. van Vuuren
Lithium metal anodes for rechargeable batteries
Wu Xu, Jiulin Wang, Fei Ding, Xilin Chen, Eduard Nasybulin, Yaohui Zhang and Ji-Guang Zhang
Recent progress on flexible lithium rechargeable batteries
Hyeokjo Gwon, Jihyun Hong, Haegyeom Kim, Dong-Hwa Seo, Seokwoo Jeon and Kisuk Kang
Enhancing SOFC cathode performance by surface modification through infiltration
Dong Ding, Xiaxi Li, Samson Yuxiu Lai, Kirk Gerdes and Meilin Liu
Heterogeneous nanocarbon materials for oxygen reduction reaction
Da-Wei Wang and Dangsheng Su
Directing the film structure of organic semiconductors via post-deposition processing for transistor and solar cell applications
Anna M. Hiszpanski and Yueh-Lin Loo