Energy & Environmental Science Perspective article – read this article hot off the press!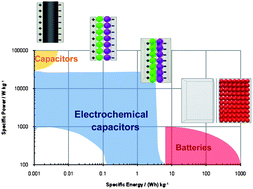 Energy storage in electrochemical capacitors: designing functional materials
to improve performance
Peter J. Hall, Mojtaba Mirzaeian, S. Isobel Fletcher, Fiona B. Sillars, Anthony J. R. Rennie, Gbolahan. O. Shitta-Bey, Grant Wilson, Andrew Cruden and Rebecca Carter
Energy Environ. Sci., 2010, DOI: 10.1039/C0EE00004C
Electrochemical capacitors, also known as supercapacitors, are becoming increasingly important components in energy storage, although their widespread use has not been attained due to a high cost/performance ratio. Peter J. Hall and colleagues at the University of Strathclyde explain although there are still many uncertainties in understanding the underlying mechanisms involved in electrochemical capacitors, genuine progress continues to be made.