I am delighted to report that Caroline Knapp was the winner of the Dalton Transactions Poster Prize for the second time at the recent Coordination Chemistry Discussion Group (CCDG) meeting! The annual meeting of the CCDG was held at the University of East Anglia, Norwich, UK from the 7-8 July 2011. Caroline is a member of Jose Goicoechea's group at the University of Oxford. Congratulations Caroline!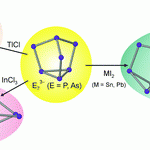 Find out more about Caroline's research on Zintl ions in her recent Dalton Transactions articles :
A versatile salt-metathesis route to heteroatomic clusters derived from phosphorus and arsenic Zintl anions
Caroline M. Knapp, Joseph S. Large, Nicholas H. Rees and Jose M. Goicoechea
Dalton Trans., 2011, 40, 735-745
Reactivity studies of group 15 Zintl ions towards homoleptic post-transition metal organometallics: a 'bottom-up' approach to bimetallic molecular clusters
Caroline Knapp, Binbin Zhou, Mark S. Denning, Nicholas H. Rees and Jose M. Goicoechea
Dalton Trans., 2010, 39, 426-436
The meeting itself was a great success featuring a wide spread in coordination chemistry from actinides to artificial photosynthesis and magnetism to MOFs. The meeting saw excellent talks by keynote speakers, such as Polly Arnold (Edinburgh) and Jean-Francois Carpentier (Rennes), in addition to some great postgraduate presentations. I particularly enjoyed the great conference dinner 'by the pitch' at Delia Smith's restaurant in Norwich City Football Club! Thanks to all those at UEA who organised this year's exciting CCDG meeting.
If you attended the meeting yourself, do let us know how you got on by posting a comment below….. What talk did you find most interesting? Did you enjoy eating in the stadium?