Yanfeng Yue and co-workers have developed a novel method for introducing mesoporosity into a series of metal–organic framework (MOF) materials by using "perturbation-assisted nanofusion", as described in their recent Dalton Transactions paper. The authors exemplified the importance of their work by showing that large dye molecules can be encapsulated in the mesopores for luminescent sensing of volatile organic compounds (see also the image below, from Yue and co-workers).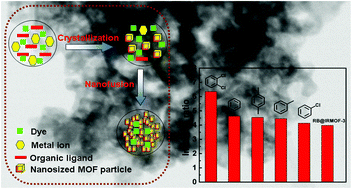 Introducing mesoporosity into microporous frameworks has been of interest to materials chemists for several years, in an effort to expand the functionality and widen the potential applications of nanoporous materials.
Microporous materials have proved to be great tools for achieving precision in catalysis, separations and sensing (among others), by using internal surfaces or porosity in a multitude of ways. However, by introducing mesoporosity, one can overcome certain limitations, such as diffusion or small molecule selectivity, and one can even introduce multifunctionality by using the properties of both the micropores and the mesopores within a structure.
Typical procedures for the fabrication of mesopores in MOF structures involve the use of wasteful techniques such as etching or organic templates. However, rather than building mesopores into single crystals of MOFs, Yue and co-workers take a different approach by constructing mesopores from fused MOF nanocrystals that are formed through a highly agitated synthesis procedure (that is, perturbation-assisted nanofusion). The result is the formation of a robust hierarchical superstructure through an inexpensive and economical process.
This out-of-the-box thinking allows the authors to exploit their new 'bottom-up' approach to introduce functional mesoporosity into MOF materials, for the sensing of volatile organic compounds.
It is easy to see how this method would be useful to researchers not only in sensing but also in any of the myriad established and emerging MOF applications.
Read the full article now at:
Encapsulation of large dye molecules in hierarchically superstructured metal–organic frameworks
Yanfeng Yue, Andrew J. Binder, Ruijing Song, Yuanjing Cui, Jihua Chen, Dale K. Hensley and Sheng Dai
Dalton Trans., 2014, 43, 17893-17898
---
| | |
| --- | --- |
| | Christopher Hinde obtained his Masters degree in Chemistry from the University of Southampton, UK in 2011. He is currently doing research towards a Ph.D. in the area of materials chemistry and catalysis under the supervision of both Dr Robert Raja at the University of Southampton and Professor T. S. Andy Hor at the Institute of Materials Research and Engineering (IMRE), part of Singapore's Agency for Science Technology and Research (A*STAR). |