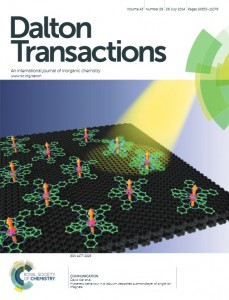 We are delighted to announce four new Dalton Transactions themed issues to be published in 2015:
Perovskites
Guest Editors: Professors Russell Morris, Philip Lightfoot (both University of St. Andrews) and J. Paul Attfield (The University of Edinburgh)
Deadline: 16th December 2014
Earth Abundant Element Compounds in Homogeneous Catalysis
Guest Editors: Professors Philip Mountford (University of Oxford), Laurel L. Schafer (University of British Columbia) and Warren E. Piers (University of Calgary)
Deadline: 14th January 2015
New Talent Asia
Guest Editor: Professor Hiroshi Nishihara (The University of Tokyo)
Deadline: 24th February 2015
Fluorine
Guest Editor: Professor Jennifer Love (University of British Columbia)
Deadline: 29th May 2015


Does your research fit into any of these subject areas? If so, we would welcome your contribution. For further details on issue scopes and on how to submit, see below:
How to submit
All types of manuscript – communications, full papers and Perspectives, will be considered for publication. The manuscript should be prepared according to our article guidelines and submitted via our online system.
All manuscripts will be subject to normal peer review and inclusion in the themed issue will be at the discretion of the Guest Editors. Please indicate in your submission which themed issue you would like to be considered for.
Issue scopes
Perovskites
This issue will focus on functional perovskites from the inorganic chemist's perspective. It will include, but is not limited to: experimental studies on the synthesis, structure and physical/chemical properties of perovskites; chemistry-structure-property relationships; and the design and understanding of perovskite structure and functionality from a theoretical/computational perspective. Contributions are not limited to 'classical' inorganic perovskites but can also include hybrid perovskites, 'MOF' perovskites, layered perovskite families and related phases (eg. tungsten bronze types).
Earth Abundant Element Compounds in Homogeneous Catalysis
The aim of this themed issue is to showcase the latest research in the development of highly active and selective homogeneous catalysts utilizing earth abundant elements from across the Periodic Table. We believe this will reflect a recent trend in catalysis that seeks to find alternatives to catalysts based on precious metals like Ru, Rh, Pd, Ag, Re, Os, Ir, Pt, or Au and toxic elements like Hg, Bi, In and Pb. We are inviting contributions from researchers utilizing catalysts based on elements from both the s and p block, the more abundant first row transition metals and the lanthanides as catalysts for commodity chemical, fine chemical and polymer synthesis, to emphasise the broad range of activity in this area.
New Talent Asia
This themed issue will focus on all areas of inorganic and organometallic chemistry, inorganic materials science, bioinorganic chemistry and catalysis and aims to reflect the strength and vitality of new inorganic chemistry from the Asia-Pacific region.
Fluorine
This issue will focus on all applications of fluorine in inorganic chemistry. Topics include, but are not limited to: organometallic and coordination complexes using fluorinated ligands, metal-catalysed and metal-mediated fluorination and C–F activation reactions, main group fluoride compounds, solid state metal fluorides, molecular fluoride complexes and materials for fluoride sensing and anion binding. Synthetic, theoretical, catalytic and mechanistic studies will all be suitable, as will any relevant studies on material properties.
Interested in submitting  paper? Please contact us for more information