Dalton Transactions issue 16 is now published online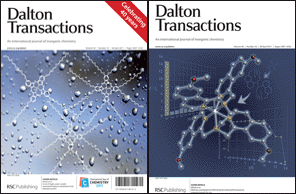 Featuring the cover articles:
The outside front cover features three tetraethyleneglycol-substituted zinc phthalocyanines.  Their photophysical and photochemical properties, binding to plasma proteins and photocytotoxicity are investigated together with their potential as photodynamic therapy photosensitisers.
A set of highly water-soluble tetraethyleneglycol-substituted Zn(II) phthalocyanines: synthesis, photochemical and photophysical properties, interaction with plasma proteins and in vitro phototoxicity
Sinem Tuncel, Fabienne Dumoulin, Jürgen Gailer, Melani Sooriyaarachchi, Devrim Atilla, Mahmut Durmuş, Denis Bouchu, Huguette Savoie, Ross W. Boyle and Vefa Ahsen
The inside front cover features three methoxy-substituted 1-isoTQEN derivatives for use as fluorescent
zinc sensor molecules.  Read more about these and the implications for a molecular design strategy at…..
Methoxy-substituted isoTQEN family for enhanced fluorescence response toward zinc ion
Yuji Mikata, Azusa Yamashita, Keiko Kawata, Hideo Konno, Saori Itami, Keiko Yasuda and Satoshi Tamotsu
Dalton Trans., 2011, 40, 4059-4066
DOI: 10.1039/C0DT01617A