In this Dalton Transactions Hot article, two new CoII/LnIII complexes are synthesized with 2-amino-isobutyric acid.
The complexes are hetero-heptametallic clusters ( [CoII6LnIII] )with 2-amino-isobutyric acid as the ligand, forming 3d-4f metallic cages in which the LnIII centre (Ln = Eu, Dy) is encapsulated within a CoII6 trigonal prism.
Constantinos J. Milios and co-workers from the University of Crete looked at the optical and magnetic properties of their complexes, and found that one (containing Dysprosium) has the potential to be a single molecule magnet, while the other (containing Europium) exhibited luminescent properties.
Read the full article to find out more about these 3d-4f metallic cages…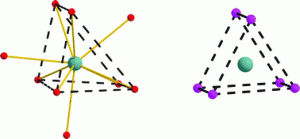 Unique trigonal prism encapsulated Ln complexes: a [CoII6Eu] and a [CoII6Dy] cage
Maria Orfanoudaki, Ioannis Tamiolakis, Milosz Siczek, Tadeusz Lis, Gerasimos S. Armatas, Spiros A. Pergantis and Constantinos J. Milios
Dalton Trans., 2011, Advance Article
DOI: 10.1039/C1DT10052A, Communication
FREE TO READ until 12th April