Pt(IV) complexes are accepted as a class of potential anticancer compounds with better oral activity than their Pt(II) analogues.  Adoración G. Quiroga and colleagues have synthesised two novel Pt(IV) complexes based on Pt(II) analogues previously shown by them to have potential as anticancer compounds. The team from Spain, Australia and Germany describe in this paper the synthesis, characterization, and unusually high cytotoxicity against three human cancer cell lines of these novel Pt(IV) complexes.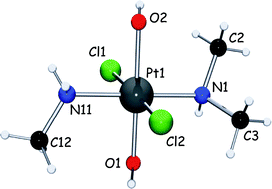 The preparation and characterization of trans-platinum(IV) complexes with unusually high cytotoxicity
Leticia Cubo, Trevor W. Hambley, Pablo J. Sanz Miguel, Amancio Carnero, Carmen Navarro-Ranninger and Adoración G. Quiroga
Dalton Trans., 2011, Advance Article
DOI: 10.1039/C0DT00565G, Paper
 READ FOR FREE! Until the 12th November.