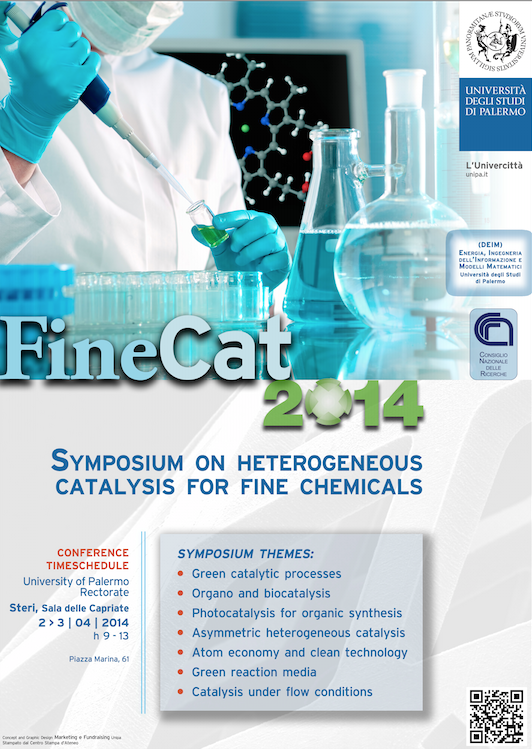 The third FineCat – Symposium on heterogeneous catalysis for fine chemicals was held in Palermo, Italy, on April 2-3, 2014 in the splendid venue of the Steri Palace. The Symposium ended late in the evening of April 3rd with a spectacular social dinner at the Tasca d'Almerita estate, following the guided tour of the 1,000 years old Steri Palace the day before.
The scientific program featured 12 symposia and 11 poster presentations that highlighted practically relevant chemical innovation in fields as diverse as flow catalysis, catalysis with metal "Lego" nanoparticles, photocatalysis and biomass catalytic valorization. Fine chemicals — polyfunctional molecules with specific properties imparting them high added value — have traditionally been synthesized via selective homogeneous synthetic methods. All this is now changing as newly developed heterogeneous catalysis emerges as a convenient industrial tool capable to make the fine chemicals industry not only environmentally, but also economically, more sustainable. Delegates from Slovenia, Thailand, Canada, UK, Italy and Germany showed once again the truly international nature of this Symposium series inaugurated in 2012.
A Catalysis Science & Technology post prize was awarded to Maria Luisa Testa for her poster concerning he use of acid hybrid silicas in esterification reactions, awarding one year's personal e-subscription to Catalysis Science & Technology. The Prize was offered by RSC Publishing, partnering with the organizers since the very first FineCat symposium.
Read more about the conference here.