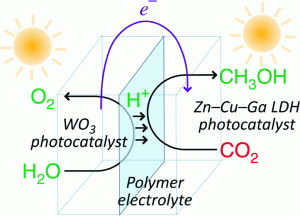 Due to its sustainability appeal, carbon dioxide is gaining popularity as a feedstock for the synthesis of commercially-important chemicals, including fuels for energy applications. Methanol may be formed from carbon dioxide via water splitting with the assistance of photocatalysts. In this study, reverse photofuel cells incorporating tungsten oxide and layered double hydroxide (LDH) photocatalysts were used for the oxidation of water and the reduction of carbon dioxide, respectively. Two different fabrication designs were tested: in one cell, the catalysts were either used alone or mixed with carbon black; in the other, LDH was mounted on copper, tungsten oxide was mounted on carbon, and the photoelectrodes were immersed in hydrochloric acid solution.
The second cell outperformed the first in terms of the amount of photocurrent generated, since the transfer of protons across the Nafion film was more efficient in the acid solution. However, product selectivity differed between the two cells: gaseous carbon dioxide led to the preferential formation of methanol, whereas the second cell predominantly generated hydrogen due to the poor solubility of carbon dioxide in water.
The full paper is available here:
Photocatalytic conversion of carbon dioxide into methanol in reverse fuel cells with tungsten oxide and layered double hydroxide photocatalysts for solar fuel generation
Motoharu Morikawa, Yuta Ogura, Naveed Ahmed, Shogo Kawamura, Gaku Mikami, Seiji Okamoto, and Yasuo Izumi
Catal. Sci. Technol., 2014, Advance Article, DOI: 10.1039/C3CY00959A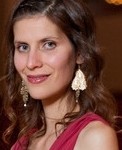 Jenna Flogeras obtained her B.Sc. and M.Sc. in Chemistry from the University of New Brunswick (Fredericton), Canada. Currently a Ph.D. student at Memorial University of Newfoundland, she is excited to spend some time outside the laboratory this summer to explore Thailand and Southeast Asia.