Sara Coles is a guest web-writer for Catalysis Science & Technology. She currently works for Johnson Matthey in Royston, UK.
---
Sulfur is normally thought of as a catalyst poison – but a Perspective article in
Catalysis Science and Technology,
by Alan McCue and  James Anderson at the University of Aberdeen, UK, reports on a growing quantity of work suggesting that it can act as an activity promoter or selectivity modifier in heterogeneous catalysis.
Catalytic metals including rhodium, platinum and palladium are well known for being susceptible to sulfur as a poison, however the effect is perhaps not as simple as first perceived – it has been suggested that the effects of sulfur have a degree of long range character, indicating that a small quantity of adsorbed sulfur may have a disproportionate effect on catalytic properties.
Many industrial feedstock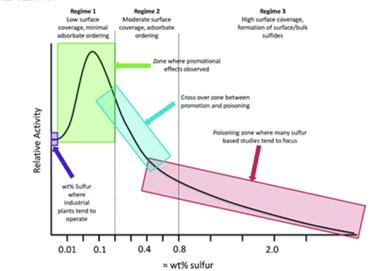 s and even biomass derived feedstocks contain sulfur to some extent which may influence catalytic performance. With more than 100 references, this article may provide a useful source of further information on this very relevant topic.
The authors present examples from Fischer–Tropsch synthesis, catalytic reforming, regio- and chemoselective hydrogenation as well as CO oxidation, hydrocarbon oxidation and NOx reduction.
Find out more by reading the article:
Sulfur as a catalyst promoter or selectivity modifier in heterogeneous catalysis
Catal. Sci. Technol., 2014, DOI: 10.1039/C3CY00754E