Posted on behalf of Shreesha Bhat
The trend of employing metal alloys as catalysts in various organic reactions is gaining popularity owing to the considerable advantages it offers. Alloying gold with palladium is known to enhance the activity of the formed catalyst for various oxidation reactions. Present methods employed for the preparation of Au-Pd alloys include wet impregnation, deposition precipitation and sol-immobilization. These methods utilize chloride salts of the gold as a precursor which make the removal of the chloride from the final catalyst difficult. The presence of chloride is known to cause a loss in the catalytic activity of the alloys through blocking of the active sites. Scientists have been trying to find a way to reduce the chlorine content, but the alternatives have been equally discouraging due to various problems associated with them.
In an answer to this challenging problem, Researchers from UK and Pakistan have come up with a simple solution: Simply grind the metal acetates for 10 min with a support and get highly active chloride-free alloys as oxidation catalysts. These catalysts were evaluated against catalysts prepared by impregnation for the oxidation of benzyl alcohol, glycerol and direct H2O2 synthesis.
Various optimization studies on the Au:Pd ratio and the metal loading were carried out using turn over frequency (TOF) as the standard for comparisons. The results indicated that the physical grinding (PG) facilitated the Pd-Au alloy formation (not observed with other methods) which is known to produce a synergistic effect on the catalytic activity. It was also found that an optimum ratio of both metals resulted in higher activity with optimum metal loadings. To provide the icing on the cake, the PG (physically ground) catalysts were further successfully employed for the oxidation of various substrates with equal (or improved) TOFs, thus proving the general applicability of these catalysts.
Thus, the present paper showcases how the conventional physical grinding was successful in providing highly active bimetallic catalysts, where most of the other complex methods faltered!!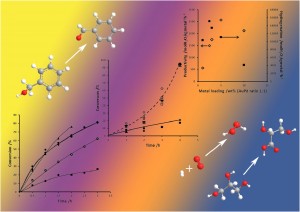 To read more, follow the link below:
Physical mixing of metal acetates: optimisation of catalyst parameters to produce highly active bimetallic catalysts
Peter J. Miedziak, Simon A. Kondrat, Noreen Sajjad, Gavin M. King, Mark Douthwaite, Greg Shaw, Gemma L. Brett, Jennifer K. Edwards, David J. Morgan, Ghulam Hussain and Graham J. Hutchings
Catal. Sci. Technol., 2013, Advance Article
DOI: 10.1039/C3CY00263B, Paper
---
Shreesha Bhat is a medicinal chemist pursuing his M.S.(Pharm.) in Medicinal Chemistry at the National Institute of Pharmaceutical Education and Research, India