Since hydrogen represents an alternative energy source to carbon-based fuel, there is a need to be able to split water using water oxidation catalysts (WOC) preferably by renewable energy sources such as sunlight.  In this HOT article, the Spiccia group present a facile preparation of NiOx films for use as WOC.  These WOC films, deposited from macrocyclic Ni complexes in alkaline solution, were significantly more catalytically active at higher pH (12.9), therefore widening the range of conditions over which they can be deposited.  Enhanced catalytic activity was also observed in visible light, indicating the films are electrochromic.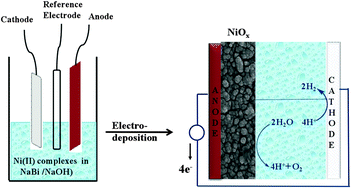 To learn more about these catalytic metal oxide films download the full paper now:
Anodic deposition of NiOx water oxidation catalysts from macrocyclic nickel(II) complexes
Archana Singh,  Shery L. Y. Chang,  Rosalie K. Hocking,  Udo Bach and Leone Spiccia
Catal. Sci. Technol., 2013, Advance Article
DOI: 10.1039/C3CY00017F
This article is part of a themed issue on photocatalysis that is due to be published later this year.
You may also be interested in:
Highly active nickel oxide water oxidation catalysts deposited from molecular complexes
Archana Singh, Shery L. Y. Chang, Rosalie K. Hocking, Udo Bach and Leone Spiccia
Energy Environ. Sci., 2013, 6, 579-586
DOI: 10.1039/C2EE23862D
Have you signed up to our newsletter or e-alerts yet? Catalysis content delivered to your inbox.