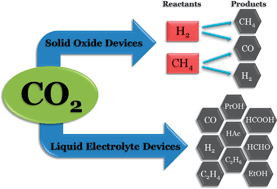 Over the past several years, there has been a growing interest in the capture of carbon dioxide emissions and either their permanent immobilization or chemical conversion to industrially relevant products. Though several processes have been developed to capture CO2, many of them are quite expensive since they require either ultra high purity CO2 or are energy intensive. Also, many purely chemical methods show low product selectivity.
This Perspective article, by William Mustain and co-workds, looks at ways in which electrochemical, photoelectrochemical and bioelectrochemical methods could be used for CO2 conversion. Electrochemical processes can reduce cost and increase reaction selectivity because they allow for direct control of the surface free energy.
Find out more about electrochemical solutions to the carbon capture problem in Mustain's Hot Catalysis Science & Technology Perspective:
Recent progress in the electrochemical conversion and utilization of CO2


Neil S. Spinner, Jose A. Vega and William E. Mustain
Catal. Sci. Technol., 2012, DOI: 10.1039/C1CY00314C
You can read this article for free – if you haven't already why not sign up for free access to Catalysis Science & Technology here.