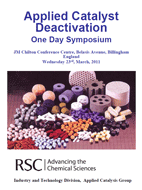 Catalysis Science & Technology were delighted to sponsor the poster competition at the Applied Catalyst Deactivation symposium in Billingham, UK, hosted by the RSC Applied Catalysis Group.
Judging was by eminent trio Prof David Jackson, Prof Ken Waugh & Dr John Casci, who awarded the best poster prize to Helen Daly, from Queens University Belfast.
Helen's work was entitled 'The effect of reaction conditions on the stability of Au/CeZrO4 catalysts in the low temperature water gas shift reaction', and is part of her research in Chris Hardacre's group in Belfast.
Mike Wood, Vice President of research and development at Davy Process Technology, commented that  'We were particularly pleased with the quality of all the posters and quantity'