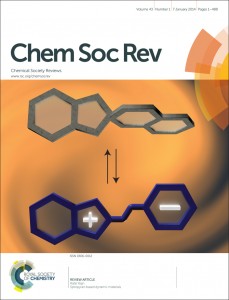 There is something for everyone to enjoy amongst our this selection  of highly cited reviews published in ChemSocRev in 2013, each with more than 100 citations to date.*
From nanomaterials and photocatalysis to drug delivery and theory, the list reflects the diverse subject areas covered by ChemSocRev.
We hope you enjoy reading this selection if you haven't already. Sign up to receive our table of contents e-alerts to make sure you don't miss our latest content.
Most cited papers from 2013 to date*:

Metal dichalcogenide nanosheets: preparation, properties and applications
Xiao Huang, Zhiyuan Zeng and Hua Zhang
Chem. Soc. Rev., 2013, 42, 1934-1946
DOI: 10.1039/C2CS35387C, Tutorial Review
Porphyrin-sensitized solar cells
Lu-Lin Li and Eric Wei-Guang Diau
Chem. Soc. Rev., 2013, 42, 291-304
DOI: 10.1039/C2CS35257E, Review Article
Nano-graphene in biomedicine: theranostic applications
Kai Yang, Liangzhu Feng, Xiaoze Shi and Zhuang Liu
Chem. Soc. Rev., 2013, 42, 530-547
DOI: 10.1039/C2CS35342C, Review Article
Inorganic nanostructures for photoelectrochemical and photocatalytic water splitting
Frank E. Osterloh
Chem. Soc. Rev., 2013, 42, 2294-2320
DOI: 10.1039/C2CS35266D, Review Article
From themed collection Solar fuels
Enhancing solar cell efficiency: the search for luminescent materials as spectral converters
Xiaoyong Huang, Sanyang Han, Wei Huang and Xiaogang Liu
Chem. Soc. Rev., 2013, 42, 173-201
DOI: 10.1039/C2CS35288E, Review Article
Organic sensitizers from D–π–A to D–A–π–A: effect of the internal electron-withdrawing units on molecular absorption, energy levels and photovoltaic performances
Yongzhen Wu and Weihong Zhu
Chem. Soc. Rev., 2013, 42, 2039-2058
DOI: 10.1039/C2CS35346F, Review Article
Far-red to near infrared analyte-responsive fluorescent probes based on organic fluorophore platforms for fluorescence imaging
Lin Yuan, Weiying Lin, Kaibo Zheng, Longwei He and Weimin Huang
Chem. Soc. Rev., 2013, 42, 622-661
DOI: 10.1039/C2CS35313J, Review Article
Gold nanorods and their plasmonic properties
Huanjun Chen, Lei Shao, Qian Li and Jianfang Wang
Chem. Soc. Rev., 2013, 42, 2679-2724
DOI: 10.1039/C2CS35367A, Review Article
From themed collection Chemistry of functional nanomaterials
Modifying enzyme activity and selectivity by immobilization
Rafael C. Rodrigues, Claudia Ortiz, Ángel Berenguer-Murcia, Rodrigo Torres and Roberto Fernández-Lafuente
Chem. Soc. Rev., 2013, 42, 6290-6307
DOI: 10.1039/C2CS35231A, Tutorial Review
From themed collection Enzyme immobilisation

Arylamine organic dyes for dye-sensitized solar cells
Mao Liang and Jun Chen
Chem. Soc. Rev., 2013, 42, 3453-3488
DOI: 10.1039/C3CS35372A, Review Article