Archive for the 'Uncategorized' Category
05 Dec 2014
PCCP is delighted to present a themed collection which includes a number of great articles on Fundamental Processes in Semiconductor Nanocrystals. The issue was guest edited by Efrat Lifshitz (Technion, Israel) and Laurens Siebbeles (TU Delft, The Netherlands) and brings together a collection of contributed papers that cover current interest in a wide variety of topics associated with semiconductor crystals. You can read the Guest Editor's full introduction to the issue in their Editorial.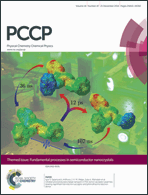 There are a number of great contributions in this issue, including:
Influence of nanoparticle shape on charge transport and recombination in polymer/nanocrystal solar cells
Zhe Li, Weiyuan Wang, Neil C. Greenham and Christopher R. McNeill
Phys. Chem. Chem. Phys., 2014,16, 25684-25693
Multiple exciton generation in cluster-free alloy CdxHg1−xTe colloidal quantum dots synthesized in water
Stephen V. Kershaw, Sergii Kalytchuk, Olga Zhovtiuk, Qing Shen, Takuya Oshima, Witoon Yindeesuk, Taro Toyoda and Andrey L. Rogach
Phys. Chem. Chem. Phys., 2014,16, 25710-25722
Take a look at the themed collection online now to see all of the great contributions!