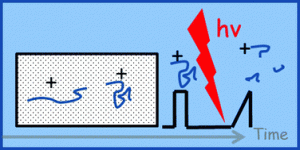 PCCP is pleased to announce the publication of the Optical spectroscopy coupled with mass spectrometry methods themed issue.  This themed issue reports recent progress in the fast developing field of spectroscopy of ions by means of mass spectrometry coupled with optical spectroscopy, focussing on both the experimental and theoretical aspects of this topic.
The guest editor for this themed issue is Professor Anne Zehnacker (University of Paris-Sud, France).
Below are a selection of articles from the collection which are free to access.  Please visit our publishing platform to view the rest of the themed collection.
---
Anharmonic simulations of the vibrational spectrum of sulfated compounds: application to the glycosaminoglycan fragment glucosamine 6-sulfate
Loïc Barnes, Baptiste Schindler, Abdul-Rahman Allouche, Daniel Simon, Stéphane Chambert, Jos Oomens and Isabelle Compagnon
Phys. Chem. Chem. Phys., 2015,17, 25705-25713
DOI: 10.1039/C5CP02079D
---
Microhydrated dihydrogen phosphate clusters probed by gas phase vibrational spectroscopy and first principles calculations
Shou-Tian Sun, Ling Jiang, J.W. Liu, Nadja Heine, Tara I. Yacovitch, Torsten Wende, Knut R. Asmis, Daniel M. Neumark and Zhi-Feng Liu
Phys. Chem. Chem. Phys., 2015,17, 25714-25724
DOI: 10.1039/C5CP02253C
---
Charge transfer in MOH(H2O)+ (M = Mn, Fe, Co, Ni, Cu, Zn) complexes revealed by vibrational spectroscopy of mass-selected ions
Brett M. Marsh, Jia Zhou and Etienne Garand
Phys. Chem. Chem. Phys., 2015,17, 25786-25792
DOI: 10.1039/C5CP01522G
---
A pulsed uniform Laval expansion coupled with single photon ionization and mass spectrometric detection for the study of large molecular aggregates
Bernhard Schläppi, Jessica H. Litman, Jorge J. Ferreiro, David Stapfer and Ruth Signorell
Phys. Chem. Chem. Phys., 2015,17, 25761-25771
DOI: 10.1039/C5CP00061K