PCCP are pleased to announce the publication of the Organic Field Effect Transistors themed issue.  The promise of low cost and flexible transistors has encouraged research groups to explore many avenues and resulted in organic field effect transistors (OFETs) with device efficiencies comparable to amorphous silicon based devices.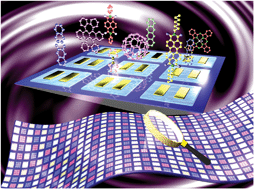 This themed issue aims to provide new insights into the underlying physical chemistry of organic field effect transistors (OFETs), providing a better understanding of how and why current devices function.
Such knowledge and understanding will be essential in the quest to further enhance the efficiency of OFETs.
The issue is guest-edited by Zhenan Bao (Stanford University), Antonio Facchetti (Northwestern University), Wenping Hu (Chinese Academy of Sciences), and K. Krishnamoorthy (CSIR-National Chemical Laboratory-Pune).
Below is an example of the high quality work available in the themed collection and if you would like to see more, the full collection can be viewed here.
Organic metal engineering for enhanced field-effect transistor performance
Raphael Pfattner, Concepció Rovira and Marta Mas-Torrent
Phys. Chem. Chem. Phys., 2015,17, 26545-26552
DOI: 10.1039/C4CP03492A
---
Single-displacement controlled spontaneous electrolysis towards CuTCNQ microribbon electrodes in organic single-crystal transistors
Liangfu He, Zhuoyu Ji, Yonggang Zhen, Jie Liu, Fangxu Yang, Qiang Zhao, Huanli Dong and Wenping Hu
Phys. Chem. Chem. Phys., 2015,17, 26541-26544
DOI: 10.1039/C4CP06064D
---
Use of heteroaromatic spacers in isoindigo-benzothiadiazole polymers for ambipolar charge transport
Gyoungsik Kim, A-Reum Han, Hae Rang Lee, Joon Hak Oh and Changduk Yang
Phys. Chem. Chem. Phys., 2015,17, 26512-26518
DOI: 10.1039/C4CP01787K