PCCP is delighted to present its latest themed collection which includes a great selection of articles on Size selected clusters and particles. The issue was guest-edited by Jeroen van Bokhoven (Institute for Chemical and Bioengineering ETH Zurich) and Stefan Vajda (Argonne National Laboratory) and you can read an introduction to this issue in their editorial.
The outside front cover features an article from Anastassia N. Alexandrova et al. entitled Pure and Zn-doped Pt clusters go flat and upright on MgO(100).
There are many other great contributions to this themed issue including: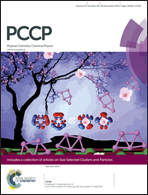 Optimised photocatalytic hydrogen production using core–shell AuPd promoters with controlled shell thickness
W. Jones, R. Su, P. P. Wells, Y. Shen, N. Dimitratos, M. Bowker, D. Morgan, B. B. Iversen, A. Chutia, F. Besenbacher and G. Hutchings
Phys. Chem. Chem. Phys., 2014,16, 26638-2664
Propene epoxidation with O2 or H2–O2 mixtures over silver catalysts: theoretical insights into the role of the particle size
M. Boronat, A. Pulido, P. Concepción and A. Corma
Phys. Chem. Chem. Phys., 2014,16, 26600-26612
Make sure to take a look at the full contents of this themed collection online now!