PCCP is delighted to present its latest themed collection which includes an excellent selection of interesting and timely articles on charge generation mechanism in organic solar cells. The issue was guest-edited by Maria Antonietta Loi and Alessandro Troisi and you can read their editorial to find out more.
The outside front cover features a Perspective article entitled Charge separation energies at organic heterojunctions: on the role of structural and electrostatic disorder from Frédéric Castet, David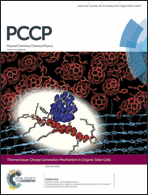 Beljonne et al.
There are plenty of other great contributions in this themed collection, including:
Charge generation in polymer–fullerene bulk-heterojunction solar cells
Feng Gao and Olle Inganäs
Perspective, DOI: 10.1039/C4CP01814A
Ultrafast charge separation and nongeminate electron–hole recombination in organic photovoltaics
Samuel L. Smith and Alex W. Chin
Communication, DOI: 10.1039/C4CP01791A
Make sure to check out the full contents of the themed issue online now.