The 2018 Joint ICTP-IAEA School and Workshop on Fundamental Methods for Atomic, Molecular and Materials Properties in Plasma Environments was held at ICTP in Trieste, Italy, from 16 – 20 April 2018. Six Physical Chemistry Chemical Physics poster prizes were awarded.
First prize was awarded to Marta Patricia Alejandra Mendez for her contribution "Inelastic collision calculations of heavy targets".
Joint second prize was awarded to Szabolcs Goger for "Theoretical studies on the dynamics of the HO + HBr → H2O + Br reaction" and Francisco Ramirez for "Real time electron dynamics using TDDFT".
Joint third prize was awarded to Jerome Deprince for "Plasma environment effects on K-lines of astrophysical interest", Chuanguo Zhang for "Long-term evolution of cascades in bcc tungsten: effects of size distribution of interstitial clusters" and Suvam Singh for "Electron and positron induced scattering from propene".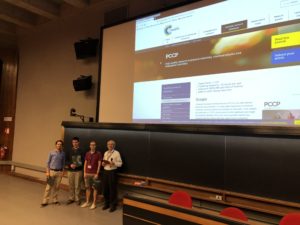 Congratulations to the awardees!