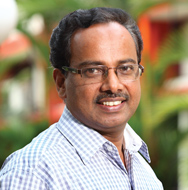 We are extremely pleased to annouce that Dr Ayyappanpillai Ajayaghosh is a new Associate Editor for Physical Chemistry Chemical Physics (PCCP). His research interests include supramolecular chemistry, chemosensors, low band-gap polymers, fluorescent gels, organic nanostructures and photoresponsive systems.
Dr Ajayaghosh is a CSIR Outstanding Scientist at the National Institute for Interdisciplinary Science and Technology (NIIST), India. He completed his PhD at the University of Calicut after graduating from Kerala University with a BSc. He has received numerous awards including  the Infosys Prize (2012) for his outstanding contribution in the field of physical sciences, and in particular for his work that has advanced supramolecular chemistry.
Dr Ajayagosh will begin handling papers soon and so we encourage you to submit to his editorial office.
Read Dr Ajayaghosh's paper in the PCCP themed issue on materials innovation through interfacial physics and chemistry:
Excitation energy migration in oligo(p-phenylenevinylene) based organogels: structure-property relationship and FRET efficiency
Chakkooth Vijayakumar, Vakayil K. Praveen, Kalathil K. Kartha and Ayyappanpillai Ajayaghosh
DOI: 10.1039/C0CP02110E