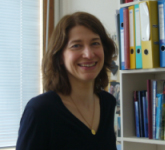 When asked about her favourite recent article in PCCP, Advisory Board member Professor Anne Zehnacker-Rentien of the Institut des Sciences Moléculaires d'Orsay chose "Effect of hydrogen-bonding on the excited-state reactivity of fullerene derivatives and its impact on the control of the emission polarisation from photopolic single crystals" by Guillaume Raffy, Debdas Ray, Cheng-Che Chu, André Del Guerzo and Dario M. Bassani.
She says "I really enjoyed reading the paper. Photopolic materials are objects whose emission polarisation can be controlled using light. This article gives an elegant example of such fullerene-built single crystals, in which the photo-induced switch of polarisation is not accompanied by any other change in the fluorescence properties."
The article is part of the PCCP themed issue on Hydrogen bonding in electronically excited states, so if you enjoyed this article please do take a look a the rest!