We are delighted that the second Gold for Gold open access article describing a potential new method for producing ultracold fluorine atoms has been published in Physical Chemistry Chemical Physics (PCCP). Gold for Gold enables UK RSC Gold subscribers to publish their RSC articles via Open Science, the RSC's Gold Open Access option, by giving them credits equal to the value of their subscription.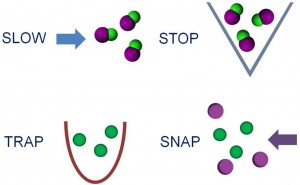 The article is by Dr Ian Lane of Queen's University Belfast and is freely available to all. Read the full details of this exciting article for free today:
Ultracold fluorine production via Doppler cooled BeF
Ian Lane
Phys. Chem. Chem. Phys., 2012
DOI: 10.1039/C2CP42709E
Describing the Gold for Gold scheme, Ian says: "With research budgets tight, ensuring that exciting results reach the widest possible audience is often difficult. Allowing open access to my PCCP paper via the Gold for Gold initiative provides an opportunity to promote this research and I am therefore delighted to be the first recommended for this scheme by my School."
More information on Gold for Gold is available on our website. If you have any further questions on the procedure, or are an interested customer from outside the UK, please contact us.