The Pan Africa Chemistry Network (PACN) Congress was held on 7 – 9 November in Accra, Ghana and was attended by approximately 250 researchers and policy-makers.
The PACN Congress is the flagship annual event for the PACN, which seeks to create a self-sustaining science based in Africa, helping to build capacity, solve local challenges and contribute to global knowledge. The topic for this year's Congress was 'Sustainable Agriculture: how the chemical sciences can contribute to food security for a growing population'.
ChemComm is proud to have supported the poster prizes for this wonderful event and the 1st prize was awarded to Francis Asiam, from KNUST in Ghana, for his poster entitled 'Collection, distribution, extraction and characterisation of vegetable oils from 40 varieties of high yielding Allanblackia parviflora in Ghana'. A full list of the poster prize recipients and poster titles can be found below.
Well done to all of the well-deserved winners!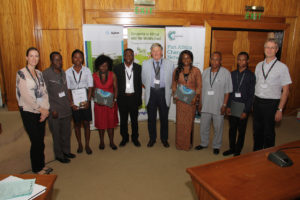 PACN Prize 1st place: Francis Asiam (KNUST, Ghana) for 'Collection, distribution, extraction and characterisation of vegetable oils from 40 varieties of high yielding Allanblackia parviflora in Ghana
PACN Prize 2nd place: EA Asamoah (KNUST, Ghana) for 'Development of Rabbit Meat Sausages'
PACN Prize, 3rd place: Ray Voegborlo (KNUST, Ghana) for 'Human Exposure Assessment of Ochratoxin A through consumption of cocoa beans'
Agilent supported prize: Nkechinyere Isienyi (Forestry Research Institute of Nigeria) for 'Impact of heavy metal on soil near Lapite dumpsite in Ibadan, Nigeria'
Syngenta supported prize: Flaure Essoung (ICIPE, Kenya) for 'Welwitschianol A and B: Two cyclohexene derivatives and other insecticidal constituents of Caesalpinia Welwitschiana'