One of the greatest global challenges is the ever-growing demand for reliable, large-scale energy production.
The depletion of cost-effective fossil fuels and concerns about climate change are driving the need for clean energy sources derived from renewable technologies. Wind and solar power show significant potential as sustainable alternatives however, both solar photovoltaics and wind energy display intermittent output which has led to concerns regarding reliability for global energy production. As a result, there has been an increased demand for the development of large-scale energy storage.

Among energy storage technologies, lithium-ion batteries (LIBs) predominate however lithium's high cost, abundance, unevenglobal distribution and safety concerns have limited its widespread application. In recent years, researchers have become interested in high energy sodium-ion batteries (SIBs) as a safer and less expensive alternative. Nevertheless, their inferior electrochemical performances, due to the larger size and heavier mass of sodium ions, has become a major hurdle in the development and implementation of SIBs.
In a recent ChemComm publication, Prof. Jun Chen of Nankai University has demonstrated the improved capabilities of SIBs using a manganite hydroxide (MnOOH)-based anode.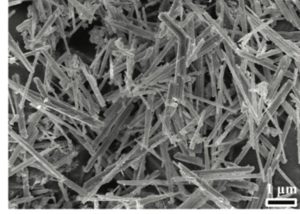 In the past, transition metal oxides, such as MnOx-based materials, have been used in LIBs as they possess a high theoretical capacity and—in some cases—improved conductivity. In this study by Chen and co-workers, MnOOH nanorods (figure, top) were synthesized, and were shown to display a higher initial Coulombic efficiency and rate performance compared to MnO2 (a common anode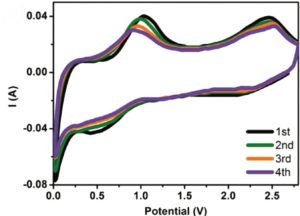 material in LIBs). Cyclic voltammetry (figure, bottom) and various other spectroscopic techniques were used to investigate the electrochemical properties and storage behaviour of MnOOH-SIBs. These experiments showed improvements in charge capacity and overall rate performance when compared to other transition metal oxides and sulfides.
The results of this work show promise toward the fabrication of high-performance SIBs which are encouraging alternatives for energy storage due to sustainable cost, improved thermal stability and transport safety. The performance of SIBs still lags behind that of LIBs but this study, among others, demonstrates that new electrode materials need to be explored in the development of SIBs and solving large-scale energy storage challenges.
To find out more see:
MnOOH nanorods as high-performance anodes for sodium ion batteries
Lianyi Shao, Qing Zhao and Jun Chen
DOI: 10.1039/C7CC00087A
---
Victoria Corless is currently completing her Ph.D. in organic chemistry with Prof. Andrei Yudin at The University of Toronto. Her research is centred on the synthesis of kinetically amphoteric molecules, which offer a versatile platform for the development of chemoselective transformations with particular emphasis on creating novel biologically active molecules.