Are you ready for the third International Conference on Advanced Complex Inorganic Nanomaterials? This exciting conference will be held from the 13th to the 17th of July at the University of Namur, in Belgium.

ChemComm proudly sponsors this conference, which will offer an update of recent innovations in both fundamental and applied aspects and to highlight the latest advances and progress in the field of inorganic nanomaterials, such as inorganics, ceramics, hybrids and bio-inspired materials.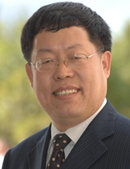 Additionally, Can Li, Associate Editor of the journal, will be giving a talk in this fantastic conference, in addition to presenting a ChemComm Poster Prize. He is Professor of Chemical Physics at the Dalian Institute of Chemical Physics (Chinese Academy of Sciences, China).
He works on fundamental and applied research in catalysis and making efforts to reveal the essential relationship between catalytic performance and catalyst structure, and try to understand catalysis at various levels including atomic, molecular as well as nanometer scales and to apply these understandings to the designs and the development of practical applications in energy, fine chemicals and environmental sciences.
Read some of his latest articles in ChemComm:
Construction of unique six-coordinated titanium species with an organic amine ligand in titanosilicate and their unprecedented high efficiency for alkene epoxidation
Le Xu, Da-Ding Huang, Chen-Geng Li, Xinyi Ji, Shaoqing Jin, Zhaochi Feng, Fei Xia, Xiaohong Li, Fengtao Fan, Can Li and Peng Wu
Chem. Commun., 2015,51, 9010-9013
DOI: 10.1039/C5CC02321A, Communication
Submit your next top-notch, high impact Communication to
ChemComm is the home of urgent high quality communications from across the chemical sciences. With a world-renowned reputation for quality and fast times to publication (average of 40 days), ChemComm is the ideal place to publish your research.
We look forward to seeing you in Namur!
---
Stay up to date with ChemComm
: Be among the first to hear about the newest articles being published –
Sign-up
to our journal news alert to receive information about most read articles, themed issues, journal news, as well as calls for papers and invitations. 
Follow us on Twitter!