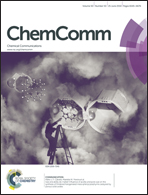 Read on to find out which ChemComm articles your colleagues were downloading most in the first quarter of 2014
Nanoporous metal formates for krypton/xenon separation
Keith V. Lawler, Zeric Hulvey and Paul M. Forster
DOI: 10.1039/C3CC44374D
MoS2–MWCNT hybrids as a superior anode in lithium-ion batteries
Kartick Bindumadhavan, Suneel Kumar Srivastava and Sourindra Mahanty
DOI: 10.1039/C3CC38598A
Fe-Catalysed oxidative C–H/N–H coupling between aldehydes and simple amides
Jing Wang, Chao Liu, Jiwen Yuan and Aiwen Lei
DOI: 10.1039/C4CC01447B

Kinetic trapping of the host–guest association intermediate and its transformation into a thermodynamic inclusion complex
Oksana Danylyuk, Vladimir P. Fedin and Volodymyr Sashuk
DOI: 10.1039/C3CC37868C
A turn-on fluorescent Fe3+ sensor derived from an anthracene-bearing bisdiene macrocycle and its intracellular imaging application
Lin Qiu, Chengcheng Zhu, Huachao Chen, Ming Hu, Weijiang He and Zijian Guo
DOI: 10.1039/C3CC49482A

A one-step low temperature processing route for organolead halide perovskite solar cells
Matthew J. Carnie, Cecile Charbonneau, Matthew L. Davies, Joel Troughton, Trystan M. Watson, Konrad Wojciechowski, Henry Snaith and David A. Worsley
DOI: 10.1039/C3CC44177F
Preparation of conjugated 1,3-enynes by Rh(III)-catalysed alkynylation of alkenes via C–H activation
Karl D. Collins, Fabian Lied and Frank Glorius
DOI: 10.1039/C4CC01141D
A robust, catalytic metal–organic framework with open 2,2′-bipyridine sites
Honghan Fei and Seth M. Cohen
DOI: 10.1039/C4CC01607F
Copper-catalysed oxidative C–H/C–H coupling between olefins and simple ethers
Dong Liu, Chao Liu, Heng Li and Aiwen Lei
DOI: 10.1039/C4CC00867G

Graphene quantum dots: emergent nanolights for bioimaging, sensors, catalysis and photovoltaic devices
Jianhua Shen, Yihua Zhu, Xiaoling Yang and Chunzhong Li
DOI: 10.1039/C2CC00110A

Flexible, low-temperature, solution processed ZnO-based perovskite solid state solar cells
Mulmudi Hemant Kumar, Natalia Yantara, Sabba Dharani, Michael Graetzel, Subodh Mhaisalkar, Pablo P. Boix and Nripan Mathews
DOI: 10.1039/C3CC46534A
A sensitive colorimetric and fluorescent sensor based on imidazolium-functionalized squaraines for the detection of GTP and alkaline phosphatase in aqueous solution
Ningjie Wu, Jingbo Lan, Lipeng Yan and Jingsong You
DOI: 10.1039/C4CC00752B

Copper-mediated S–N formation via an oxygen-activated radical process: a new synthesis method for sulfonamides
Xin Huang, Jichao Wang, Zhangqin Ni, Sichang Wang and Yuanjiang Pan
DOI: 10.1039/C4CC01353K

Optical bleaching of perovskite (CH3NH3)PbI3 through room-temperature phase transformation induced by ammonia
Yixin Zhao and Kai Zhu
DOI: 10.1039/C3CC48522F

Direct N-acylation of azoles via a metal-free catalyzed oxidative cross-coupling strategy
Jingjing Zhao, Pan Li, Chungu Xia and Fuwei Li
DOI: 10.1039/C4CC01587H
"Click"-extended nitrogen-rich metal–organic frameworks and their high performance in CO2-selective capture
Pei-Zhou Li, Xiao-Jun Wang, Kang Zhang, Anjaiah Nalaparaju, Ruyi Zou, Ruqiang Zou, Jianwen Jiang and Yanli Zhao
DOI: 10.1039/C3CC49457H
Efficient photocatalytic hydrogen generation from water by a cationic cobalt(II) porphyrin
Mirco Natali, Alessandra Luisa, Elisabetta Iengo and Franco Scandola
DOI: 10.1039/C3CC48882A
ZnCl2-catalyzed chemoselective cascade reactions of enaminones with 2-furylcarbinols: a versatile process for the synthesis of cyclopenta[b]pyrrole derivatives
Chengyu Wang, Chunyi Dong, Lingkai Kong, Yanli Li and Yanzhong Li
DOI: 10.1039/C3CC49191A
Manganese-catalyzed intermolecular C–H/C–H coupling of carbonyls and heteroarenes
Keika Hattori, Asraa Ziadi, Kenichiro Itami and Junichiro Yamaguchi
DOI: 10.1039/C4CC01376J
A copper(I)/copper(II)–salen coordination polymer as a bimetallic catalyst for three-component Strecker reactions and degradation of organic dyes
Yun-Long Hou, Raymond Wai-Yin Sun, Xiao-Ping Zhou, Jun-Hao Wang and Dan Li
DOI: 10.1039/C3CC47996J
Aerobic oxidation catalysis with stable radicals
Qun Cao, Laura M. Dornan, Luke Rogan, N. Louise Hughes and Mark J. Muldoon
DOI: 10.1039/C3CC47081D
Reduction of graphene oxide viaL-ascorbic acid
Jiali Zhang, Haijun Yang, Guangxia Shen, Ping Cheng, Jingyan Zhang and Shouwu Guo
DOI: 10.1039/B917705A

Versatile ruthenium(II)-catalyzed C–H cyanations of benzamides
Weiping Liu and Lutz Ackermann
DOI: 10.1039/C3CC49502G
Revealing the metal-like behavior of iodine: an iodide-catalysed radical oxidative alkenylation
Shan Tang, Yong Wu, Wenqing Liao, Ruopeng Bai, Chao Liu and Aiwen Lei
DOI: 10.1039/C4CC00644E
Iodine-catalyzed three-component oxysulfenylation of alkenes with sulfonyl hydrazides and alcohols
Fu-Lai Yang, Fu-Xiang Wang, Ting-Ting Wang, Yi-Jie Wang and Shi-Kai Tian
DOI: 10.1039/C3CC48961B
---
ChemComm
is the home of urgent high quality communications from across the chemical sciences. With a world renowned reputation for quality and fast times to publication (average of 40 days),
ChemComm
is the ideal place to publish your research. 
Submit your urgent research to ChemComm today! 
Stay up to date with ChemComm
Be among the first to hear about the newest articles being published – Sign-up to our journal news alert to receive information about most read articles, themed issues, journal news, as well as calls for papers and invitations.