Here are this month's referee-recommended hot articles – all free to download until 13th April:  
High gas storage capacities and stepwise adsorption in a UiO type metal–organic framework incorporating Lewis basic bipyridyl sites
Liangjun Li, Sifu Tang, Chao Wang, Xiaoxia Lv, Min Jiang, Huaizhi Wu and Xuebo Zhao  
Chem. Commun., 2014,50, 2304-2307
DOI: 10.1039/C3CC48275H, Communication  
---
Hydrosilylation catalysis by an earth alkaline metal silyl: synthesis, characterization, and reactivity of bis(triphenylsilyl)calcium
Valeri Leich, Thomas P. Spaniol, Laurent Maron and Jun Okuda  
Chem. Commun., 2014,50, 2311-2314
DOI: 10.1039/C3CC49308C, Communication  
---
Nano-sized heterometallic macrocycles based on 4-pyridinylboron-capped iron(II) clathrochelates: syntheses, structures and properties
Ying-Ying Zhang, Yue-Jian Lin and Guo-Xin Jin  
Chem. Commun., 2014,50, 2327-2329
DOI: 10.1039/C3CC49038F, Communication  
---
Structural analysis and reactivity of unusual tetrahedral intermediates enabled by SmI2-mediated reduction of barbituric acids: vinylogous N-acyliminium additions to α-hydroxy-N-acyl-carbamides
Michal Szostak, Brice Sautier and David J. Procter  
Chem. Commun
., 2014,50, 2518-2521
DOI: 10.1039/C3CC48932A, Communication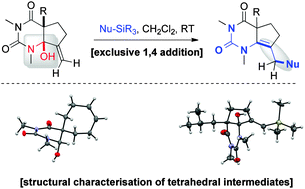 ---
The genesis of a heterogeneous catalyst: in situ observation of a transition metal complex adsorbing onto an oxide surface in solution
Antoine Hervier, Juliette Blanchard, Guylène Costentin, John Regalbuto, Catherine Louis and Souhir Boujday  
Chem. Commun
., 2014,50, 2409-2411
DOI: 10.1039/C3CC48838A, Communication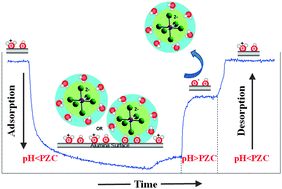 ---
A visible light responsive rhodium and antimony-codoped SrTiO3 powdered photocatalyst loaded with an IrO2 cocatalyst for solar water splitting
Rikako Asai, Hiroaki Nemoto, Qingxin Jia, Kenji Saito, Akihide Iwase and Akihiko Kudo  
Chem. Commun
., 2014,50, 2543-2546
DOI: 10.1039/C3CC49279F, Communication  
---
An unsolvated buckycatcher and its first dianion
Alexander V. Zabula, Yulia V. Sevryugina, Sarah N. Spisak, Lesya Kobryn, Renata Sygula, Andrzej Sygula and Marina A. Petrukhina  
Chem. Commun
., 2014,50, 2657-2659
DOI: 10.1039/C3CC49451A, Communication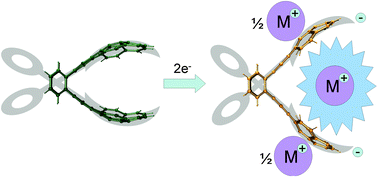 ---
Femtogram detection of cytokines in a direct dot-blot assay using SERS microspectroscopy and hydrophilically stabilized

Au–Ag nanoshells Yuling Wang, Mohammad Salehi, Max Schütz and Sebastian Schlücker  
Chem. Commun.
, 2014,50, 2711-2714
DOI: 10.1039/C3CC48633H, Communication  

---
La-doped Al2O3 supported Au nanoparticles: highly active and selective catalysts for PROX under PEMFC operation conditions
Qingquan Lin, Botao Qiao, Yanqiang Huang, Lin Li, Jian Lin, Xiao Yan Liu, Aiqin Wang, Wen-Cui Li and Tao Zhang  
Chem. Commun
., 2014,50, 2721-2724
DOI: 10.1039/C3CC49193E, Communication  
---
Environmental control of nucleophilic catalysis in water
Geetika Chadha and Yan Zhao  
Chem. Commun
., 2014,50, 2718-2720
DOI: 10.1039/C3CC49593K, Communication  

---
Helicene-grafted vinyl- and carbene-osmium complexes: an example of acid–base chiroptical switching
Emmanuel Anger, Monika Srebro, Nicolas Vanthuyne, Christian Roussel, Loïc Toupet, Jochen Autschbach, Régis Réau and Jeanne Crassous  
Chem. Commun
., 2014,50, 2854-2856
DOI: 10.1039/C3CC47825D, Communication  
---
Facile assembly of n-SnO2 nanobelts–p-NiO heterojunctions with enhanced ultraviolet photoresponse
Siya Huang, Hui Wu, Kohei Matsubara, Jing Cheng and Wei Pan  
Chem. Commun
., 2014,50, 2847-2850
DOI: 10.1039/C3CC47860B, Communication  
---
Coexistence of cages and one-dimensional channels in a porous MOF with high H2 and CH4 uptakes
Jiandong Pang, Feilong Jiang, Mingyan Wu, Daqiang Yuan, Kang Zhou, Jinjie Qian, Kongzhao Su and Maochun Hong  
Chem. Commun
., 2014,50, 2834-2836
DOI: 10.1039/C3CC48381A, Communication  
---
A tuned affinity-based staurosporine probe for in situ profiling of protein kinases

Xiamin Cheng, Lin Li, Mahesh Uttamchandani and Shao Q. Yao  
Chem. Commun
., 2014,50, 2851-2853
DOI: 10.1039/C4CC00184B, Communication  
---
Synthesis of a water-soluble pillar[9]arene and its pH-responsive binding to paraquat

Zhengtao Li, Jie Yang, Guocan Yu, Jiuming He, Zeper Abliz and Feihe Huang  
Chem. Commun
., 2014,50, 2841-2843
DOI: 10.1039/C3CC49535C, Communication  
---
Tetrahydro[5]helicene-based imide dyes with intense fluorescence in both solution and solid state

Meng Li, Yingli Niu, Xiaozhang Zhu, Qian Peng, Hai-Yan Lu, Andong Xia and Chuan-Feng Chen  
Chem. Commun
., 2014,50, 2993-2995
DOI: 10.1039/C3CC49680E, Communication  
---
Amino acid-based multiresponsive low-molecular weight metallohydrogels with load-bearing and rapid self-healing abilities
Subhadeep Saha, Jürgen Bachl, Tanay Kundu, David Díaz Díaz and Rahul Banerjee  
Chem. Commun
., 2014,50, 3004-3006
DOI: 10.1039/C3CC49869G, Communication      
---
Syntheses of lactosyl ceramide analogues carrying novel bifunctional BODIPY dyes directed towards the differential analysis of multiplexed glycosphingolipids by MS/MS using iTRAQ

Sang-Hyun Son, Shusaku Daikoku, Atsuko Ohtake, Katsuhiko Suzuki, Kazuya Kabayama, Yukishige Ito and Osamu Kanie  
Chem. Commun
., 2014,50, 3010-3013
DOI: 10.1039/C4CC00112E, Communication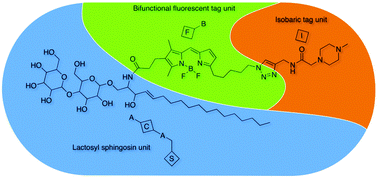 ---
Enhanced stereoselectivity in a di-Ru(II) complex of an achiral bis-bidentate ligand
Amlan K. Pal, Philippe D. Ducharme and Garry S. Hanan  
Chem. Commun
., 2014,50, 3303-3305
DOI: 10.1039/C3CC47856D, Communication  
---
Boron-doped graphene as a high-efficiency counter electrode for dye-sensitized solar cells
Haiqiu Fang, Chang Yu, Tingli Ma and Jieshan Qiu  
Chem. Commun
., 2014,50, 3328-3330
DOI: 10.1039/C3CC48258H, Communication  
---
Unusual formation of a N-heterocyclic germylene via homolytic cleavage of a C–C bond
Yan Li, Kartik Chandra Mondal, Peter Stollberg, Hongping Zhu, Herbert W. Roesky, Regine Herbst-Irmer, Dietmar Stalke and Heike Fliegl  
Chem. Commun
., 2014,50, 3356-3358
DOI: 10.1039/C4CC00251B, Communication  

---
Highly efficient aerobic oxidation of various amines using Pd3Pb intermetallic compounds as catalysts
Shinya Furukawa, Akifusa Suga and Takayuki Komatsu  
Chem. Commun
., 2014,50, 3277-3280
DOI: 10.1039/C4CC00024B, Communication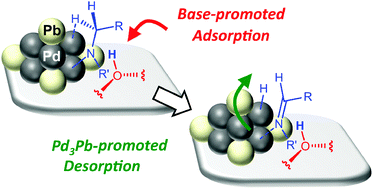 ---
Imaging in living cells using νB–H Raman spectroscopy: monitoring COSAN uptake
Màrius Tarrés, Elisabetta Canetta, Clara Viñas, Francesc Teixidor and Adrian J. Harwood  
Chem. Commun
., 2014,50, 3370-3372
DOI: 10.1039/C3CC49658A, Communication  

---
Tuning porosity and activity of microporous polymer network organocatalysts by co-polymerisation
Johannes Schmidt, Dipti Sankar Kundu, Siegfried Blechert and Arne Thomas  
Chem. Commun
., 2014,50, 3347-3349
DOI: 10.1039/C3CC49220F, Communication  
---
Tunable acid-sensitive ester protecting groups in oligosaccharide synthesis

Yao Li and Xinyu Liu  
Chem. Commun
., 2014,50, 3155-3158
DOI: 10.1039/C3CC49205B, Communication