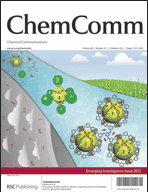 Following the amazing successes of the 2011 and 2012 ChemComm Emerging Investigators issues, we are delighted to announce the forthcoming 2013 Emerging Investigators issue. All interested parties should contact the ChemComm Editorial Office in the first instance.
This issue is dedicated to profiling the very best research from scientists in the early stages of their independent careers from across the chemical sciences. We hope to feature principal investigators whose work has the potential to influence future directions in science or result in new and exciting developments.
Also of interest:
ChemComm Emerging Investigators Issue 2012
ChemComm Emerging Investigator Lectureship 2012: The winner is….