Scientist based in Italy have recently demonstrated a new class of molecular propellers based upon polyoxometalates (POMs).
POMs consist of a cluster of transition metal oxides that are water soluble and are used for a wide range of applications. In particular, Andrea Sartorel and Marcella Bonchio, from the Univerity of Padova, are interested in their use as photosynthetic oxygen-evolving catalysts. The team studied a series of POMs with different metal centres and their catalytic performance in the disproportionation of hydrogen peroxide (H2O2) to water and oxygen.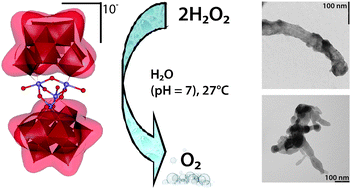 They found that of all the POMS studied, Ru4(SiW10)2 performed the best in terms of oxygen evolution. This production of oxygen could then be used to create movement of the POM;  in effect using H2O2as fuel to create oxygen that then propels the POM material in aqueous solution. A video of this can be seen here. This represents a step towards the use of light-driven molecular machines based on POMs.
If you are interested in finding out more, then why not download Sartorel and Bonchio's ChemComm article for free today? Also, don't forget to leave a comment below!