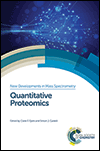 Quantitative Proteomics is published today, and is the first title in the RSC New Developments in Mass Spectrometry Series.
Quantitative Proteomics is edited by Claire E. Eyers at the University of Liverpool and by Simon J. Gaskell at Queen Mary University of London, who is also Series Editor-in-Chief. The Series Editors are Robert C. Murphy at the University of Colorado, Ron M.A. Heeren at the FOM Institute AMOLF, and Mitusutoshi Setou at Hamamatsu University.
A title soon to follow in this new series is Imaging Mass Spectrometry: Molecular Analysis of Complex Surfaces, by Ron M.A. Heeren.