To celebrate the 2014 IUPAC World Polymer Congress (MACRO 2014), 6-11 July, Chiang Mai, Thailand, here is a highlight of our recent polymer books.
Covering key themes in polymer chemistry research, this is a must-have collection for graduate-level students and above. Leading experts from across the globe have contributed to each book in this series, while Ben Zhong Tang leads a world-class Series Editorial Board.
Poly(lactic acid) Science and Technology edited by Alfonso Jiménez, Mercedes Peltzer and Roxana Ruseckaite
Phosphorus-Based Polymers edited by Sophie Monge and Ghislain David
Natural Rubber Materials (Volume 1: Blends and IPNs, Volume 2: Composites and Nanocomposites) edited by Sabu Thomas, Chin Han Chan, Laly Pothen, Rajisha K.R., Jithin Joy and Hanna Maria
Polymeric Materials with Antimicrobial Activity edited by Alexandra Muñoz-Bonilla, María Cerrada and Marta Fernández-García
Conjugated Polymers edited by Klaus Müllen, John R Reynolds and Toshio Masuda
Fundamentals of Controlled/Living Radical Polymerization edited by Nicolay V Tsarevsky and Brent S Sumerlin
Healable Polymer Systems edited by Wayne Hayes and Barnaby W Greenland
Molecular Design and Applications of Photofunctional Polymers and Materials edited by Wai-Yeung Wong and Alaa S Abd-El-Aziz
Renewable Resources for Functional Polymers and Biomaterials edited by Peter Williams
 All the RSC Polymer Chemistry Series books are available as eBooks through the RSC eBook Collection.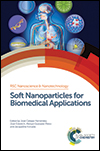 RSC Nanoscience & Nanotechnology Series
A comprehensive resource of books covering key topics in nanoscience including the characterisation, performance and properties of nanostructured materials and technologies and their applications.
Polymer Nanocomposites by Emulsion and Suspension Polymerization edited by Vikas Mittal
Polymer-Graphene Nanocomposites edited by Vikas Mittal
Polymer-based Nanostructures: Medical Applications edited by Pavel Broz
Carbon Nanotube-Polymer Composites edited by Dimitrios Tasis
Polymer Nanofibers: Building Blocks for Nanotechnology by Dario Pisignano
 All the RSC Nanoscience & Nanotechnology Series books are available as eBooks through the RSC eBook Collection.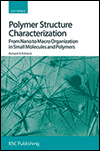 Related Textbooks on Polymer Science
Commissioning Editor Leanne Marle will also be attending if you would like to meet her and find out more about book publishing at the Royal Society of Chemistry please contact her.