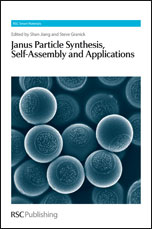 Like Janus, the two-faced Roman God peering into the past and the future, Janus particles have two sides with opposing physical properties such as hydrophobic versus hydrophilic.
Materials with different surfaces and chemistries are appealing for a number of applications, including drug delivery, but there isn't one source covering Janus particles. Edited by pioneering experts in the field, Shan Jiang (MIT) and Steve Granick (Illinois), Janus Particle Synthesis, Self-Assembly and Applications is the first book to address the synthesis and uses of Janus particles and patchy colloids.         
See both sides of Janus particles – get the book today.
Interested in other smart materials? Read more about the new RSC Smart Materials Series.