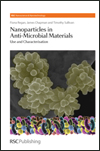 From healthcare products to food packaging, anti-microbial materials are needed to help reduce the spread of infection and disease. Many nanomaterials demonstrate anti-microbial activity, in particular silver nanoparticles, which has lead to a surge of research in this area. By covering the properties, synthesis, characterisation and toxicology, Nanoparticles in Anti-Microbial Materials presents an informative and interesting insight into materials exhibiting anti-microbial properties.
Written by Fiona Regan, James Chapman, Timothy Sullivan, Dublin City University, Ireland, this new book provides an essential source of information for both those with an advanced knowledge of the area and new to the field.
Find out more about the development of materials which resist microorganisms – access the eBook.