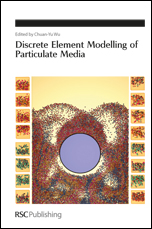 Colin Thornton is one of the pioneers of the discrete element method (DEM), a numerical technique for analysing the mechanics and physics of particulate media. To celebrate his 70th birthday and recognise his exceptional scientific contributions, the International Symposium on Discrete Element Modelling of Particulate Media held at Birmingham, UK on 28-30th March, 2012 was held in his honour.
Discrete Element Modelling of Particulate Media is a collection of the papers from the meeting highlighting the current developments in the areas of two-phase systems, cohesive systems, granular flows and quasi-static deformation, all inspired by Colin's work.
This book is a welcome addition to the literature for those working on powder handling and formulation.
Don't miss out on the latest developments – read the book today.