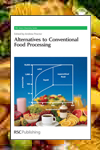 Rising energy costs and a need for 'greener' methods of production has spurred on the development of alternative food processing techniques; however, the key to success for any new food process is maintaining food safety and quality.
For June's RSC Book of the Month we've chosen Alternatives to Conventional Food Processing edited by Andrew Proctor, University of Arkansas, USA, which looks at the major alternative technologies that could be employed to reduce energy costs without compromising safety and quality.
The book provides an introduction to the principles of green chemistry and technologies, a discussion on the legal and policy issues in both the EU and the US concerning sustainable food processing and an overview of the main principles and applications of the major green technologies available to the food industry, including supercritical fluid pasteurization, membrane separations and ultrasonic food processing.
If you're a graduate student, academic or food industrialist wanting to gain an understanding of various 'green' alternative food processing technologies and their role in the future of the food industry then this is the book for you.
Go greener  – access the content now.
Interested in similar titles on green chemistry? For more books, see the RSC Green Chemistry Series.