Chemistry and Art is the theme of 2014 at the Royal Society of Chemistry, and there are plenty of publications to help provide insight into the relationship between the two disciplines.
The Royal Society of Chemistry has recently published Science and Art: The Painted Surface. The book covers Renaissance, modern, and contemporary art, as well as findings from archaeological sites. Case studies investigate everything from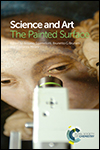 hidden images below the surface of Van Gogh paintings to the use of colour in medieval manuscripts, and there is also a chapter on the study of Tibetan thangka paintings written by the Nobel Prize winner Richard Ernst.
Science and Art: The Painted Surface features contributions from researchers in leading galleries and institutions across the globe including the Metropolitan Museum of Art, New York; the Getty Conservation Institute, Los Angeles; the British Museum, London; the National Gallery, London; and the Warsaw Academy of Fine Art.
You can browse our range of art and conservation titles, exploring the relationship between chemistry and art, by visiting the Online Bookshop.