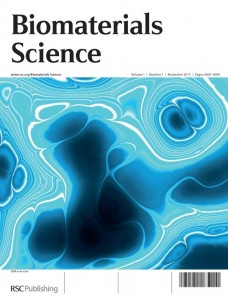 Biomaterials Science invites you to submit your next high impact article on 'Biomimetic Materials' to the journal.
Publishing only very high quality articles, the journal will cover the fundamental science of biomaterials though to their biomedical applications, including 'biomimetic materials'.
Articles will be free to access* until the end of 2014 giving your article the widest possible audience.
We encourage you to support Biomaterials Science and not-for-profit publishing by contributing to the journal. You can find our online submission system at: http://mc.manuscriptcentral.com/bmsci
Don't forget to keep up with the latest news from Biomaterials Science you can Like us on Facebook, Follow us on Twitter or sign up for the newsletter.
Sign up for the Biomaterials Science RSS feed or Table of Contents alert to find out about the first articles once they're published online.
*Individuals can access the content by signing up for an RSC Publishing Personal Account. Existing institutional RSC journal subscribers, with registered IP, have automatic access. Other institutions can register for free access.