Analytical Methods is developing a themed collection to highlight the exciting area of microfluidic systems. This multi-disciplinary field has seen growth in recent years due to its increasing applicability to a range of areas, from inkjet print heads to DNA chips.
Due to the integration of microfluidic systems throughout science, the scope of this collection is intentionally broad and encompasses applications of these systems to diverse fields including biological, environmental, forensics and diagnostics.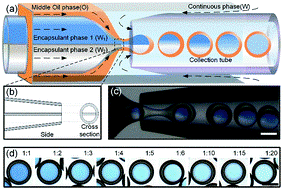 Taken from: Hongyuan Jiang et al. Anal. Methods, 2017,9, 2511-2516
This online collection will be guest edited by Associate Editors Christopher Easley, Fiona Regan and Michael Roper.
Analytical Methods welcomes early applications of new analytical methods with clear societal impact. Articles included in the collection will be published as they are accepted and collected into an online collection which will receive promotion. For more information about the journal or its scope, please visit the journal website or the recent editorial by the Editor-in-Chief, Scott Martin.
If you are interested in this opportunity or have any questions, please contact methods-rsc@rsc.org.
Submission window:  1st August 2017 -30th April 2018!