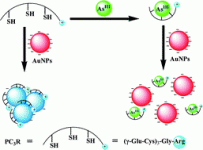 Researchers from Central South University, Changsha, Hunan and Anyang Normal University, Anyang, Henan, China report a simple, rapid and selective colorimetric visualization of arsenic using unmodified gold nanoparticles (AuNPs) and a phytochelatin-like peptide.
The detection limit shown is 20 nM, which is lower than the World Health Organization's (WHO) standard for drinking water, and the authors have demonstrated feasibility for the detection of arsenic in groundwater.
They say their method will be valuable for the design of new types of metal ions sensors and will likely lead to many colorimetric detection applications in environmental monitoring.
Simple, rapid and label-free colorimetric assay for arsenic based on unmodified gold nanoparticles and a phytochelatin-like peptide
Ning Xia, Yunfeng Shi, Renchun Zhang, Feng Zhao, Feng Liu and Lin Liu
Anal. Methods, 2012, Advance Article
DOI: 10.1039/C2AY25803J