RSC journals were delighted to support the recent International Conference on Mercury as a Global Pollutant which was held in Edinburgh, UK. Congratulations to James Goacher from University of Western Ontario in London, Canada, who was awarded the RSC Best Student Presentation Award in the field of analytical methodology, environmental monitoring and assessment.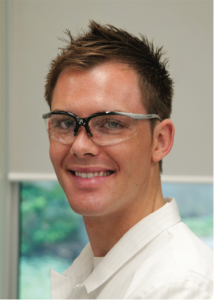 James is currently studying at the University of Western Ontario in London, Canada. He began his academic journey by completing a fourth year honours thesis project in the same field and went on to win best thesis presentation for his work. James then began an MSc to focus on historical trends in mercury accumulation in remote peatlands of far Northern Ontario in the Hudson Bay Lowland. This environmentally sensitive area is expected to be subject to some of the greatest climate related changes in the coming future and James feels strongly that area needs to be well understood and protected for its inherent value. By better understanding historical mercury trends in the natural environment, James hopes to tease apart current anthropogenic influences on the mercury cycle so that realistic emissions targets can be set. Future plans for James are still uncertain, but he expects his passion for the environment will lead him on to improve Canadian environmental policy and practises.
We are also pleased to announce that the  following RSC journals will be publishing a cross journal web-themed issue relating to papers presented at Mercury 2013:
Analytical Methods  – Early applied demonstrations of new analytical methods with clear societal impact
JAAS  – Innovative research on the fundamental theory and application of spectrometric techniques
Metallomics  – A global approach to metals in biology
Environmental Science: Processes and Impacts  – advancing our understanding of environmental hazards, processes, and impacts, and offer solutions to today's and future problems, formerly the  Journal of Environmental Monitoring,
RSC Advances  – An international journal to further the chemical sciences
Authors from the participating sessions are invited to submit to the journal most suitable for their work. The relevant articles from the conference will be published in those journals and then collected together as a joint web collection, as a permanent record of the conference. Articles submitted to the participating journals will be reviewed in the usual manner, and also appear in a normal issue both online and in print.
The submission deadline for our web theme will be September 24th 2013 with the view of final publication in January 2014. Specific information on the scope of each journal and author submission instructions can be found on the journal homepages.
We look forward to receiving your submission!