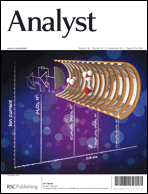 Soon we will be publishing a themed issue of Analyst on
Analysis in gases and liquids using quantum cascade lasers
We aim to cover a wide range of aspects of this exciting area of research by highlighting analytically important developments and novel applications. 
This issue is guest edited by Boris Mizaikoff, (University of Ulm) and Bernhard Lendl (Vienna University of Technology).
 All articles will be peer-reviewed, and to be suitable for publication, must meet the usual quality and significance standards of the journal. Please indicate in your covering letter that your article is to be considered for the Analysis in gases and liquids using quantum cascade lasers themed issue.
Email us at ANALYST-RSC@rsc.org for more information