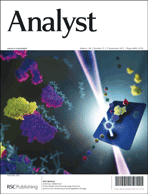 Soon we will be publishing a themed issue of Analyst on Analytical Toxicology of Nanoparticles featuring research on new nanotechnologies and their potential impact on safety and environment.
The aim is to highlight analytical techniques developed to detect and characterise nanoparticles and determine their influence on biological and ecological systems.
Guest Edited by Christy Haynes, University of Minnesota
Do you work in the area of nanoparticle toxicology? Submit your work today!
All articles will be peer-reviewed, and to be suitable for publication, must meet the usual quality and significance standards of the journal. Please indicate in your covering letter that your article is to be considered for the Analytical Toxicology of Nanoparticle themed issue.
Email us at ANALYST-RSC@rsc.org for more information.